More About HOTHOTFLAME
Visit My SparkPage
Send Me SparkMail
Recipes I've Shared:
Fruit Tea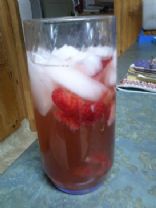 This is just a quick recipe for a sweet fruit tea. It's not the greatest, but it works when you want something sweet quickly.
Yogurt Milk Shake
I just whipped this up this morning and found that it was pretty yummy. I used strawberries, but you can use whatever yogurt or fruit you have. Stick with vanilla ice cream to keep the milkshake flavor and only add enough milk to keep it smooth. Obviously, you can switch anything out for better choices, but I live with people who will never be on a diet so I make do with what I can.
Recipes I've Rated:
HOTHOTFLAME currently has no rated recipes.