More About CHRISMELLOR
Visit My SparkPage
Send Me SparkMail
Recipes I've Shared:
Borrowed Cauliflower Cheese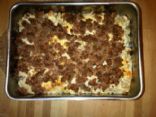 This is largely borrowed from Jamie Oliver's excellent Ministry of Food book. I've changed it a little bit but not that much. As for copyright - I don't own it but Jamie does say to "pass it on" so that is whata I'm doing
Chris's Frittata
Quick, simple, tasty and easy frittata.