More About SACHABEE
Visit My SparkPage
Send Me SparkMail
Recipes I've Shared:
Pasta Salad with red grapes and broccoli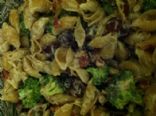 This is a simplified version of a healthy pasta salad recipe on pinterest. I love it as a side.
Egg Casserole
I make this for my husband and I so we have easy breakfasts for the week
Recipes I've Rated:
SACHABEE currently has no rated recipes.


Recipe Collections I've Shared: