More About CHEFCHICOB
Visit My SparkPage
Send Me SparkMail
Recipes I've Shared:
Miso Soup, by ChefChicoB
Miso soup is easy to make and absolutely delicous. The nutrient counts are fantastic and soy is extremely beneficial to the body.
Bison Chili, by ChefChicoB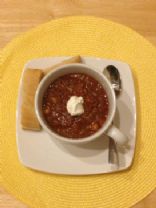 A delicious chili prepared with no added fat and full of flavor!
Recipes I've Rated:
CHEFCHICOB currently has no rated recipes.