More About THREECRANES
Visit My SparkPage
Send Me SparkMail
Recipes I've Shared:
Quick and Easy Eggplant Parmesean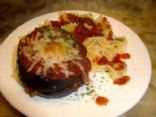 A simple meal that looks and tastes gourmet.
Honey Portabella Stir Fry
A sweet and savory side dish to an asian style dinner, using the mongolian grill style method of cooking with high heat and water.
Recipes I've Rated:
THREECRANES currently has no rated recipes.


Recipe Collections I've Shared: