More About GENNYBELYEA
Visit My SparkPage
Send Me SparkMail
Recipes I've Shared:
Noodles Genevieve
The only thing I ate for months as a fussy two-year old and am still obsessed with now.
Gluten Free & Low Fat Banana Bread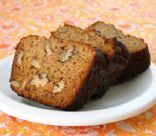 Super easy, fast, gluten-free and low fat banana bread! So good!
Recipes I've Rated:
GENNYBELYEA currently has no rated recipes.