More About KNGKNOX
Visit My SparkPage
Send Me SparkMail
Recipes I've Shared:
Paleo Fruit Smoothie
Gluten free and lower carb (18 g. net)... this is fast and easy to blend on your way out the door. Lots of healthy CLA and fiber!
Southwest Shrimp Salad with Cilantro Lime Vinaigrette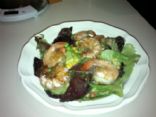 Light, easy to make summer salad... perfect for dining on the back porch!
Recipes I've Rated:
KNGKNOX currently has no rated recipes.