More About DISCOUNTINGDIVA
Visit My SparkPage
Send Me SparkMail
Recipes I've Shared:
Shrimp and Grits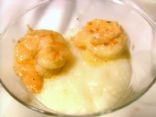 I love this southern favorite and tried to put a healthy spin on it by using goat cheese and soy milk. I was super creamy and delicous!
Recipes I've Rated:
DISCOUNTINGDIVA currently has no rated recipes.


Recipe Collections I've Shared:
FOR THE LOVE OF FOOD
I am a traditional soul food cook who is branching out to find a healthier way to eat and be satisfied. My of my recipes will be lactose-free so check them out when you get the chance and let me know what you think.