More About AWELLS189
Visit My SparkPage
Send Me SparkMail
Recipes I've Shared:
The Perfect Pancake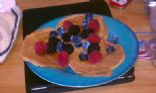 This is your standard go-to pancake. You can mix it up by adding different ingredients (mashed bananas with walnuts, blueberries and cocoa powder). These are the perfect base or just eat as is!
Recipes I've Rated:
AWELLS189 currently has no rated recipes.


Recipe Collections I've Shared:
Homemade
A list of all my homemade ingredients.