More About SUPERDAVE42709
Visit My SparkPage
Send Me SparkMail
Recipes I've Shared:
Coconut Walnut crusted Tilapia w/Orange marmalade dipping sauce.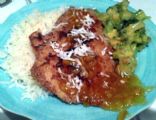 A little bit of a spin off from most of the coconut shrimp recipes you see. My 8 year old is one of the pickiest eaters I know, and he was asking for seconds before I finished mine, and even asked for thirds.
Recipes I've Rated:
Recipe Collections I've Shared: