More About THEKETODIETER
Visit My SparkPage
Send Me SparkMail
Recipes I've Shared:
Pork Stew with Fennel & Apricots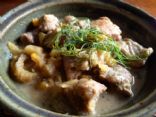 Warm, filling, easy to make stew! Low-carb & Keto Diet friendly!
Spicy Turkey Chili
Low-carb, low-fat spicy turkey chili! This can be made in a slow-cooker or it can be made in and ready to eat in under an hour. This also freezes great!
Recipes I've Rated:
THEKETODIETER currently has no rated recipes.