More About MRSHONEYCOMB
Visit My SparkPage
Send Me SparkMail
Recipes I've Shared:
Beef & Bean Chile Verde / revised from Eating Well recipes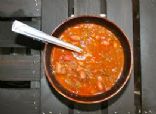 This is a low Calorie, High Fiber, High protein soup! If you rinse your canned beans you can make it a lot lower Sodium.
Sausage Muffin with Egg
I love McDonald's Breakfeast so I was suprized that these tasted so close to the real thing except this one has half the fat, less sodium and more fiber!