More About SUNSHINEGAL97
Recipes I've Shared:
Bob's Red Mill Buttermilk Pancake Mix with a Yummy Twist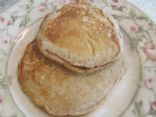 These super yummy pancakes are sure to please! Simple and easy to make, you'll get filled up from the 12 grams of protein found in this delicious recipe. Also, you can enjoy a full serving for only 260 calories!
Recipes I've Rated:
SUNSHINEGAL97 currently has no rated recipes.