More About NERDINPINK
Recipes I've Shared:
Kidney Bean Nachos with Bell Pepper Chips! (vegan)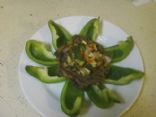 This P.I.N.K. Method Reset friendly recipe will help satisfy your craving for a classic "junk" food while sticking to your diet!
Big O' Bowl of Salad
This recipe is P.I.N.K. Method friendly! When I'm looking to bulk up a meal I always add tons of delicious raw veggies to the meal. This salad with the avocado and hemp seeds makes a well rounded meal that is great for lunch.
Recipes I've Rated:
Recipe Collections I've Shared: