More About STACYNELLIOTT
Visit My SparkPage
Send Me SparkMail
Recipes I've Shared:
Vegetarian Tacos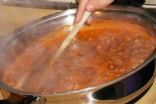 This is a great-tasting substitute to the meat version of Tacos. It is also a simple way to reduce sodium intake on a favorite Mexican dish. Kroger's corn taco shells have 0 sodium unlike other brands, and they also carry reduced sodium taco seasoning. Just Add the toppings of your choice!
Recipes I've Rated:
STACYNELLIOTT currently has no rated recipes.


Recipe Collections I've Shared: