More About RIRAFON
Visit My SparkPage
Send Me SparkMail
Recipes I've Shared:
Fast Chicken Porridge
A chicken porridge that tastes like it has been stewing all day, but only takes a few minutes to make. Does require some leftovers.
Hidden Spinach Smoothie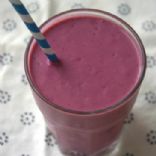 Mildly sweet berry smoothie. Great for an on-the-go snack.
Recipes I've Rated:
RIRAFON currently has no rated recipes.