More About THEHEALTHMASTER
Visit My SparkPage
Send Me SparkMail
Recipes I've Shared:
Tuscano pasta soup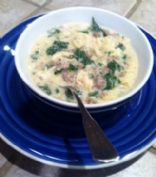 I started my Tuscano potato soup and realized I had no potatoes. With soup base started, I substituted with a higher in fiber pasta! This soup could be made much lower in calories with preparation. I just used what I had available!
Recipes I've Rated:
Recipe Collections I've Shared:
TheHealthMaster
I'm trying to find food that tastes great and will help me in my journey towards my goal weight and overall good health.