More About KMARIE0485
Recipes I've Shared:
Pumpkin Muffins w/ cream chesse swirl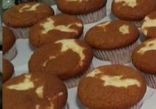 Love pumpkin everything like me? Give these yummy pumpkin muffins a try.
Low Carb. Basil Chicken Salad
This is a great recipe to use when you find a great deal on a rotisserie chicken, or have some leftover chicken breasts in the fridge. With less than 300 calories per half cup and only 3 grams of carbs, this is a great recipe to get in that extra protein you need for the day. You can reduce the calories even further by using low fat mayo and light sour cream. Hope you enjoy!
Recipes I've Rated: