More About SEMUNKY
Visit My SparkPage
Send Me SparkMail
Recipes I've Shared:
Bok Choy and Beef soup
Mixed with Bok Choy, Kale, and a little bit of ground beef in a japanese inspired broth. Substitute the beef for any meat or omit and add more greens/vegetables/or potatoes as desired!

Serve as is or over/with noodles! Ramen noodles cooked in the broth are a delicious addition making it a full meal!
Crusty Bread (No Knead)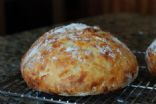 Fast, easy, no knead bread. Delicious and quick-can be modified with extra ingredients as you wish.

Vegetarian, lactose free, sugar free (if you so choose), low fat
Blue Moose Cafe Black Bean Burgers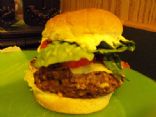 The best Black Bean burgers I've ever had. The Blue Moose Cafe in Morgantown, WV makes this and has posted their recipe-allowing others to also post as needed. Seriously. Try it.

Lately I substitute quinoa for the rice to cut out the carbs, adding a more healthy alternative. It's still incredibly tasty though the rice addition makes the pattys hold better once it's cooked in the pan.
Recipes I've Rated:
SEMUNKY currently has no rated recipes.