More About NELODRA
Recipes I've Shared:
Soda Bread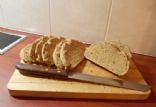 A quick and easy bread, the perfect companion for a homemade soup.
Recipes I've Rated:
NELODRA currently has no rated recipes.


Recipe Collections I've Shared:
My Makeovers
Since I can never leave any recipe alone, I guess this collection will grow at a rather steady pace...