More About BACKPROBLEM
Recipes I've Shared:
Loaded Potato Soup
Loaded Potato Soup is a perfect fall winter soup. Easy to make and not expensive
Beef Barley Soup
This is great on a cold rainy day, comfort food at its finest. Its very healthy.
Very forgiving and easy to make
Chicken Wings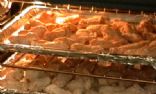 A healthy choice for a meal or snack. Eat dry or use any preferred dipping sauce.
Recipes I've Rated:
BACKPROBLEM currently has no rated recipes.


Recipe Collections I've Shared:
Ricks Favorites
I'll be adding recipes as time goes on, visit often and comments are welcome.