More About SUCCESSFOR2010
Recipes I've Shared:
Mince Tarts (per the "All You" magazine)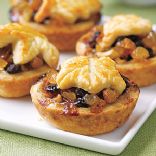 Tried this recipe and loved it...haven't figured out what to replace for lower calories - but it's a big hit!
Recipes I've Rated:
Recipe Collections I've Shared:
Holiday Recipes
Keeping all my recipes in "Category Cookbooks" is such a help....especially since no I will not have to go looking for my holiday recipes next year!

Family Favorites
With busy schedules...these are some of my family's favorite recipes all in one easy location!