More About H20IGO
Visit My SparkPage
Send Me SparkMail
Recipes I've Shared:
Broccoli, mushroom, egg fritatta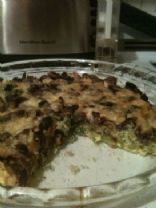 Low cal, low carb dish. I eat it as a main dish.
Perfect for people in month 2 or more, of weight loss surgeries.
Recipes I've Rated:
H20IGO currently has no rated recipes.


Recipe Collections I've Shared:
Healthy recipes
I am creating recipes that are low carb, low fat and low calories. Not necessarily vegetarian. Good after weight loss surgery, or for anyone.