More About GEMSTONE1952
Visit My SparkPage
Send Me SparkMail
Recipes I've Shared:
Low sugar, low fat, peanut butter cookies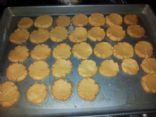 These are made with low fat natural peanut butter, splenda brown sugar mix and spenda no calorie sweetner for a low carb treat.
Vegetarian burger Chili (crockpot)
Don't be put off by all the ingredients. It takes 10 minutes to prepare. The slow cooker allows it to be made ahead of time and eaten later in the day. It can also be made on the stove top in under 30 minutes.
Recipes I've Rated:
GEMSTONE1952 currently has no rated recipes.