More About YOSHI80
Visit My SparkPage
Send Me SparkMail
Recipes I've Shared:
Split the Pot Recipe Contest Finalist: Creamy Tri-Mushroom Soup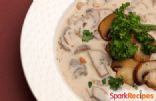 This incredibly easy and delicious mushroom soup is naturally thickened by blending the soup. No need to make a roux. The soup gets its creaminess from a bit of Neufchatel cheese (which is 1/3 less fat than cream cheese) and Greek yogurt.
Recipes I've Rated:
YOSHI80 currently has no rated recipes.