More About JESSIELME
Visit My SparkPage
Send Me SparkMail
Recipes I've Shared:
Mark Bittman's ROASTED CAULIFLOWER, RAISINS AND ANCHOVY VINAIGRETTE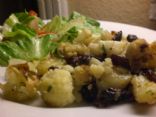 My husband and I are addicted to Mark Bittman's NY Times column, The Minimalist. This can, of course, be made vegetarian without the anchovies. I made this today, but I added yukon gold potatoes. I used too many anchovies though.
Recipes I've Rated:
JESSIELME currently has no rated recipes.