More About PISCESWOMAN87
Visit My SparkPage
Send Me SparkMail
Recipes I've Shared:
Tempeh Mexican Pizza - (Unchained Recipe Contest)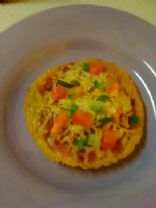 I'm really proud of myself for this one. I used to love getting Mexican Pizzas at Taco Bell. I haven't had one in years. So, I spent a few days concocting this recipe.

Tempeh is a fermented soybean cake, originating from Indonesia. You can find it at your health food store, if you can't find it at your regular grocery store. We aren't vegetarians, but sometimes it's nice to have a vegetarian meal. Helps save on the calories. Tempeh is a great meat substitute. If you chop it up right, it can have a similar consistency to ground meat.

Also, I'm pretty sure the tortillas Taco Bell uses for this are deep fried to make them crispy. I baked mine.
Sesame Chicken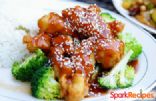 This sesame chicken recipe is a slimmed-down and healthier version of the sesame chicken from PF Chang's and other Chinese restaurants.


Recipes I've Rated: