More About DIVALINDA
Visit My SparkPage
Send Me SparkMail
Recipes I've Shared:
Thai Inspired Pumpkin Peanut Soup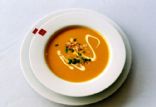 Rich velvet-y soup chock full of vitamins from the pumpkin, with the surprising touch of peanuts, ginger and a kick of red pepper
Kasha and Basil Salad
Asapted from Basil and Bulgar Salad on Fatfreevegan. I love the taste of fresh basil and keep a few plants growing year-round in my kitchen AeroGarden
Recipes I've Rated:
Recipe Collections I've Shared:
W8 Watchers CoreBuddies
Weight Watchers Core plan gives you the freedom to eat from a list of wholesome nutritious foods - without the need to count points. Check out the delicious recipes from the SparkPeople W8 Watchers CoreBuddies team!