More About ECLIPSED
Visit My SparkPage
Send Me SparkMail
Recipes I've Shared: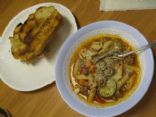 Sausage Vegetable Soup
My brother gave me this recipes years ago. We both make it several times during the winter and even in the warmer months! Add some garlic bread from the grill and you've got a meal!
Turkey Meatloaf
Trying to get away from red meat or looking for a low fat version of meatloaf? Try this turkey meatloaf.
Recipes I've Rated:
Recipe Collections I've Shared:
Trish's Spark Recipes
Recipes I've found on Spark. The picture is of my brother and husband, on vacation, making stuffed banana peppers. It's a yearly vacation tradition!