More About GMFOFPA
Visit My SparkPage
Send Me SparkMail
Recipes I've Shared:
Banana Bread w/Visalus
Banana Bread with Visalus Vi-Shape Nutritional Shake Mix.
I adjusted my normal recipe for Banana Bread so I have less sugar & salt and more protein.
Zucchini Pizza w/ Turkey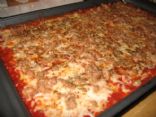 This is a great alternative to having Pizza, along with your servings of vegetables.
Recipes I've Rated: