More About TARACKELLY
Visit My SparkPage
Send Me SparkMail
Recipes I've Shared:
Yummy Cantaloupe Crunch Dessert
Especially nice on a hot day or after a long day of work! Refreshing and hits that sweets craving... and ready in 10 minutes!
Veggieful Shrimp Couscous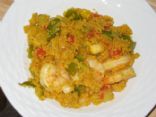 Low Fat and Low Calorie approach to flavorful cooking!
Recipes I've Rated:
TARACKELLY currently has no rated recipes.