More About PLANETJANET23
Visit My SparkPage
Send Me SparkMail
Recipes I've Shared:
Low Sugar Zucchini Banana Bread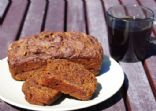 Instead of white sugar this recipe uses molasses, which adds iron. Contains a lot of healthy ingredients and no eggs, as one of my daughters was allergic as a baby. I formulated this for the babies at first, but I'm addicted to it! All my friends love these muffins.
Mexican Avocado Chicken
This is a very flavorful and attractive dish, and it's one of our favorites, so I thought I'd share. Hope you enjoy it!
Recipes I've Rated:
PLANETJANET23 currently has no rated recipes.


Recipe Collections I've Shared: