More About CAROLISCIOUS
Visit My SparkPage
Send Me SparkMail
Recipes I've Shared:
Egg Flaxseed Salsa Breakfast Muffins
Low carb and low sodium breakfast muffins
Patriotic Low Fat Chocolate Cake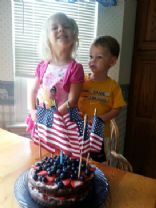 A great low fat chocolate cake that is easy and fun for any patriotic holiday or summer party!
Carol's Very Low Fat Chocolate Banana Mini-Muffins
After trying low fat muffin recipe's made with canned pumpkin and dry cake mix, I decided to experiment with some new flavors. These yummy muffins are so delicious, and SO easy to make. They definitely give me my chocolate fix! Omit the nuts and drop the fat to 0.5g per muffin.
Recipes I've Rated:
Recipe Collections I've Shared: