More About DANNIELLEMARIE
Visit My SparkPage
Send Me SparkMail
Recipes I've Shared:
Energy bars (gluten-free, low-carb, sugar-free, vegetarian/vegan)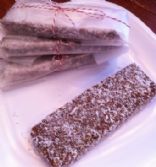 homemade energy bars with low sugar, a good amount of fiber, protein, and healthy fats.
Recipes I've Rated:
DANNIELLEMARIE currently has no rated recipes.


Recipe Collections I've Shared:
Dannielle's Recipes
I eat grain-free, gluten-free, sugar-free, lower-carb, and veggie-full (definite lean toward paleo/primal eating). It's hard to find recipes that fit the bill so I've done a lot of experimentation to create my own.