More About B2AUDACIOUS
Visit My SparkPage
Send Me SparkMail
Recipes I've Shared:
Turkey Black Bean Chili
This could be called a stew as well, as it is not a thick chili, but it is quite as satisfying as any chili I have had. Exceptionally easy to prepare!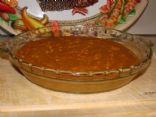 Cottage Pumpkin Crustless Pie
Nice healthy substitute for regular pumpkin pie. You will never have to miss out on that spicy pumpkin taste again!
Recipes I've Rated:
B2AUDACIOUS currently has no rated recipes.


Recipe Collections I've Shared: