More About EJOY-EVELYN
Visit My SparkPage
Send Me SparkMail
Recipes I've Shared:
Dal, Kamla's Dal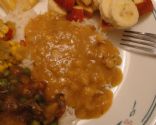 A favorite everyday dal. Kamla allowed me to follow her in the kitchen one summer and I now have several Indian recipes to enjoy. Yum! I love cooking in bulk and freezing in individual servings. This is spicy hot for my tastes . . . please cut the chili pepper in half or even a third if you prefer less heat.
Potato (Red Potato) Salad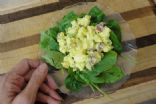 A light and zesty potato salad. Make even lighter and more nutritious by adding additional veggies like radishes, celery, sweet bell peppers, cauliflower, etc (not included in the nutritional data)
Eggplant Curry, Evelyn's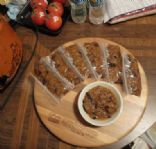 A light and tasty side dish with a spicy Indian flare! Caution: don't hesitate to cut the peppers in half to be more to your liking. I make this large batch so I can freeze and enjoy later.
Recipe Collections I've Shared:
Evelyn's Favorites
I have a love towards the spicy Asian foods and will keep my eyes open for tasty curries and such with a flair towards plant based foods.