More About BEACHAMORGAN
Visit My SparkPage
Send Me SparkMail
Recipes I've Shared:
Tex-Mex Smothered Steak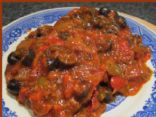 Mexican inspired, savory and satisfying,
Recipes I've Rated:
Recipe Collections I've Shared:
Great Recipes - Fish
I never ate much fish growing up. Although my Dad took me fishing as a kid he never fished much. It must have been because we lived so far from the coast and fresh water wasn't his thing. These recipes are all tried and well liked.