More About MELGMEDEIROS
Visit My SparkPage
Send Me SparkMail
Recipes I've Shared:
Banana-nut cookies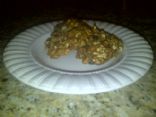 Delicious vegan cookies
Buttermilk Oatmeal Muffins
A favorite for breakfast with my toddlers! A quick and easy recipe for busy mornings. Breat with almond butter, honey, or jam.

The original recipe called for 1 cup of all-purpose flour, 1/2 c brown sugar, and 1/2 cup of oil, which I swapped with the whole wheat/gluten-free flour, Stevia, and the applesauce. I know there are brwon sugar substitutes, I just didn't have any in my pantry! I'm also a beginner with gluten-free flour which is why I didn't use it entirely, but may try it next time.
Recipes I've Rated: