More About MODUPSIE
Visit My SparkPage
Send Me SparkMail
Recipes I've Shared:
Nigerian Kidney Bean Stew with a Peanut Sauce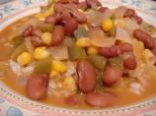 This recipe is very easy to make and has a winderfully rich flavour. Good when served with rice or bread.
AFANG SOUP
Delicious soup that you can use to eat pounded yam or eba(Gari)
Recipes I've Rated:
Recipe Collections I've Shared:
MODUPSIE COOKBOOK
Here you will learn how to make delicious African Dishes that would tantalize your taste buds this festive season. Enjoy..