More About JEWLSM
Visit My SparkPage
Send Me SparkMail
Recipes I've Shared:
Cottage Cheese and Egg Souffle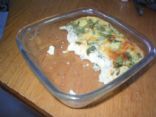 This recipe is adapted from the February 2008 edition of Shape magazine.
Julia's Vegetarian Cabbage Chili
This 'chili' I made by accident while trying to make a veggie spaghetti sauce. I found the texture to be more like chili, so I just added some beans and spices, and voila! Chili!