More About MAEGAGGLES
Visit My SparkPage
Send Me SparkMail
Recipes I've Shared:
Grain-free Peanut Butter Chocolate Chip Cookie Dough Bites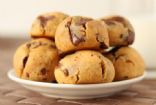 http://www.texanerin.com/2012/04/grain-fre
e-peanut-butter-chocolate-chip.html
>
with Chickpeas instead of flour!
Chili Paste Cheese Omelette
Eggs are a good way to start the day but add a tablespoon of Sambal Oelek Chili Paste and it creates a flavorful and healthy dish.

After cooking I thought the chili paste tastes much like Pablano Peppers used in Chili Rellenos.

Delicious!!
Recipes I've Rated:
MAEGAGGLES currently has no rated recipes.


Recipe Collections I've Shared: