More About JRROHERTY
Recipes I've Shared:
Whole Wheat Homemade Soft Pretzel
We used the pretzels to make a grilled cheese. After baking the pretzels, I sliced them like a bagel and added low-fat cheese and grilled....yum!
Vegetable Quiche in Brown Rice Crust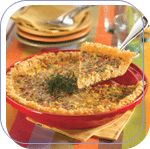 American Heart Association
Recipes I've Rated:
JRROHERTY currently has no rated recipes.