More About DSPCUTEONE
Visit My SparkPage
Send Me SparkMail
Recipes I've Shared:
Slow Cooker Paleo Berry Crumble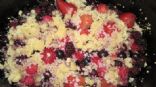 Modification of original recipie found in Paleo Slow Cooking by Chrissy Gower ISBN: 1936608693
BBQ Pork Loin with Spicy Indian Rub
Change up the usual BBQ grub by throwing this roast on the grill. This rub is oh-so-simple and grills up great! Adopted from "5 spices, 50 dishes" cookbook by Ruta Kahate.