More About IAMMYBFF
Visit My SparkPage
Send Me SparkMail
Recipes I've Shared:
Tammy's Cinnamon Hot Cocoa for BFC 0/1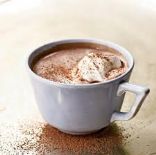 This is a great treat for a cold day or to wind down in the evening or as a great drink in the morning instead of coffee?? The cinnamon really complements the Chocolate Almond Milk. Please rate this recipe, I am curious to know if you like as much as I do.

P.S. Land O Lakes Whipped Heavy Extra Creamy that you can buy at Costco has sugar listed in the ingredients but isn't enough to show up under the Carbohydrate/Sugars in the Nutrition Facts. I don't have anymore than the 2 Tbsp but if you do I would count it as 1 sugar. It's good without the Whipped Cream too!! MMmmm Enjoy! Tammy :)
Recipes I've Rated:
IAMMYBFF currently has no rated recipes.


Recipe Collections I've Shared: