More About WELLSRUS
Recipes I've Shared:
Homemade tomato soup
My husband enjoys soup but not cooked veggies. So I came up with this tomato soup to send in his lunch everyday. Sometimes I add a little leftover chicken or taco meat, if I need to use it up, but mostly this soup can stand on it's own. Very nutricious and delicious.
Pork and Carrots in the Dutch oven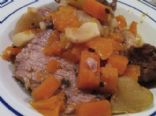 This is a dish I serve in winter. It is a little high in calories but a big hit with the family.