More About BIONDOTM
Visit My SparkPage
Send Me SparkMail
Recipes I've Shared:
The Best Chicken Sandwitch Ever!
This sandwitch is quick and easy to prepair, and very tasty! You will be using all of your food groups, and it is great for packing in a lunch!
Flank steak Fajitas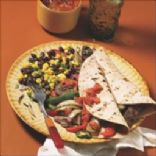 This is a quick, and spicy treat that your family will enjoy.
Recipes I've Rated:
BIONDOTM currently has no rated recipes.