More About LEARMAUI
Visit My SparkPage
Send Me SparkMail
Recipes I've Shared:
Block Island Stuffed Shrimp
This recipe came from Jan Reichel's Grandma Julia who lived on Block Island off the coast of Rhode Island. It's a simple recipe that is packed with flavor.
Mrs. Needleman's Buttermilk Coffee Cake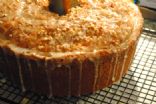 The cinnamon swirl throughout the coffee cake makes it a delicious morning treat. Actually it's great anytime of day!
Recipes I've Rated: