More About _RAMONA
Visit My SparkPage
Send Me SparkMail
Recipes I've Shared:
YUMMY Coconut Flour Pancakes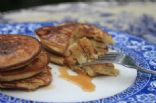 The best Paleo pancakes ever... delicious, VERY filling, GLUTEN-FREE! Recipe adapted from 'Paleo Spirit' http://paleospirit.com/2011/co
conut-flour-paleo-pancakes/
Barley, Bean & Kale Soup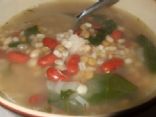 I LOVE meal-in-a-bowl soups, and this one certainly qualifies - low fat, HIGH fibre, good balance of protein and carbs! We like it with homemade soft whole wheat pretzels... YUM!
Recipes I've Rated:
Recipe Collections I've Shared:
Lenten Recipes from Antiochia
By observing the forty days of Lent, certain Christians imitate Jesus' withdrawal into the wilderness for forty days through prayer and fasting. A fast is a personal act of devotion to God, a disciplined diet, where you just abstain from only certain foodstuffs-meat, eggs, milk, butter, and cheese