More About SB08187
Visit My SparkPage
Send Me SparkMail
Recipes I've Shared:
Rice Pilaf
A grat tasting side dish to go with chicken or beef.
Honey Chicken Kabobs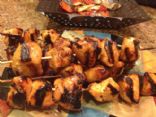 A delicious chicken recipe that is a winner at my house!
Recipes I've Rated:
SB08187 currently has no rated recipes.


Recipe Collections I've Shared:
All Chicken
My family eats a lot of chicken. These are recipes that I have collected although I have not tried them all.