More About DANITHOM25
Visit My SparkPage
Send Me SparkMail
Recipes I've Shared:
Turkey Sausage Mexican Gumbo
This is an easy one pot meal-if you don't like spicy, substitute tomatoes w/chilis for plain diced tomatoes. We usually double it up for our family of 5 and eat leftovers later in week.
Mexican Chicken and Rice Casserole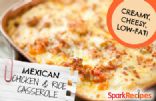 This is a family favorite!
Recipes I've Rated: